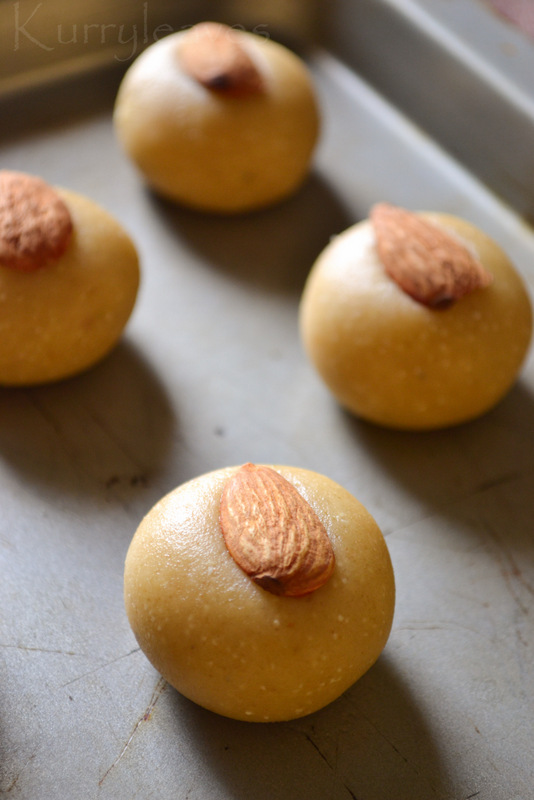 Ingredients
All purpose flour-1/2 cup
Whole wheat flour- 1/2 cup
Chickpea flour/besan-1 tbsp
Semolina-1 tbsp
Baking Powder-1/4 tsp
Salt-1 pinch
Granulated sugar- 1/2 cups
cardamom-3 nos
Nutmeg powder-1/4 tsp
Butter-1/2 cup
Almonds -as required
Method
Preheat oven to 150 deg C.
In a large mixing bowl combine together,all purpose flour,whole wheat flour,chickpea flour ,semolina baking powder and salt.
In a blender,add sugar,cardamom and nutmeg powder and grind to form a fine powder.Add this to the flour mixture.
Add butter and mix well until everything comes together.Knead this well to form a soft dough.
Cover and keep aside for about 20 minutes.
Divide the dough into equal sized balls of about 2 inch dia.(Make sure the balls are smooth with no cracks.)
Place these balls on to a baking tray lined with parchment paper,leaving 2″ in between each one.Gently press halved almonds on top of each ball.
Bake at 150 deg C for about 20 to 22 minutes or until the bottom of the cookies turn golden brown.
Allow it to to cool for at least 10 minutes before removing.