These eggless whole wheat coconut cookies are perfectly buttery and flaky.Flavoured with cardamom , ginger and vanilla, these are just perfect for the holiday season.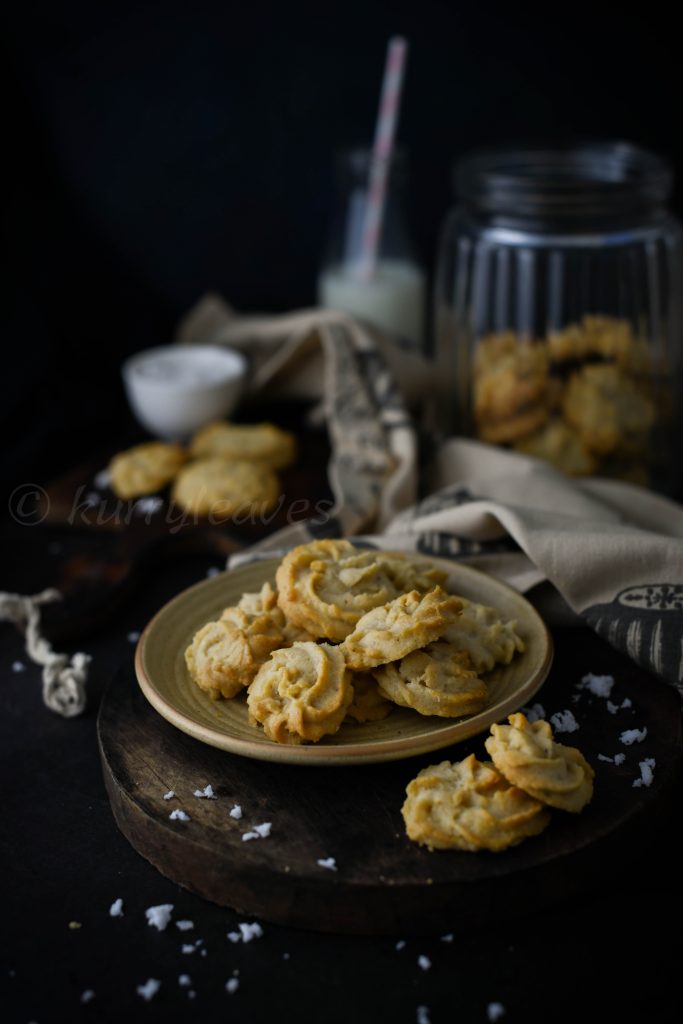 Eggless Whole Wheat Coconut Cookies
Ingredients  
2/3

cup

Butter

softened

3/4

cup

Powdered sugar

(see notes)

1/2

tsp

Vanilla extract

1 and 1/3

cup

Whole wheat flour

1/3

cup

All purpose flour

1/2

tsp

Ginger powder

3/4

tsp

Cardamom powder

1 and 1/2

tsp

Baking powder

1

pinch

Salt

1/4 to 1/2

cup

Grated coconut/dessicated coconut

1/4

cuo

Milk

optional
Instructions 
Preheat oven to 160 deg c.Line a baking tray with parchment paper.Set aside.

In a mixing bowl,beat together the butter and sugar until light and creamy.

Add the vanilla extract and mix well.

In another bowl,add whole wheat flour ,all purpose flour, ginger powder,cardamom powder,baking powder and salt using a whisk or a fork until well combined.Add this flour mixture into the butter mix in 2 batches .Stir well to blend.

Stir in the grated coconut.

If the dough is stiff add milk as required.Transfer this mixture into a piping bag fitted with star nozzle.Pipe out rosettes on the prepared baking sheet.Chill for 15 to 20 minutes to retain the shape.

If you do not prefer to pipe the cookies,drop heaped tablespoons of batter 1 " apart on the baking sheet.

Bake for about 15 to 18 minutes or until the edges turn golden brown.Leave it on the baking tray for few minutes before transferring to a wire rack to cool.
Notes
1 cup=250 ml
Here I have used 3/4 cup powdered sugar as we prefer less sweet cookies.You can use upto 1 cup powdered sugar depending upon your liking.
All purpose flour is added to make the cookies more light and airy .However ,if you prefer not to use all purpose flour ,then go ahead and use all whole wheat flour.(i.e 1 and 2/3 cup whole wheat flour).
These eggless whole wheat coconut cookies taste great even without the vanilla extract.The spices, cardamom and dry ginger powder imparts great flavour to the cookies.So it is fine if you don't use the vanilla.