Eggless Doughnuts Recipe -Learn how to prepare fluffy and delicious eggless doughnuts with chocolate glaze.
Eggless Doughnut
Ingredients  
1/2

cup

lukewarm milk

4

tbsp +1 tsp

powdered sugar

1

tsp

instant yeast

2

cups

All purpose flour

(i used 1 cup all purpose flour and 1 cup wheat flour)

1

tbsp

Milk powder

4

tbsp

Melted butter

1/2

tsp

Salt

1

tbsp

Oil

1/4 to 1/3 cup

Milk / water( at room temperature)

(as required-See notes)

vegetable oil

for deep frying
For chocolate glaze
1/2

cup

semi sweet chocolate chips

2

tbsp

Unsalted butter

2

tsp

water
Instructions 
In a small bowl , combine together luke warm milk,1 tsp powdered sugar and yeast.Set aside for about 2 to 3 minutes until frothy .

Combine together 4 tbsp powdered sugar,all purpose flour and milk powder in a large mixing bowl.Add the melted butter and the yeast mixture and mix gently using your finger tips.Cover and set aside for about 10 minutes.

Now add the salt and mix well.Gradually add sufficient quantity fo milk and mix well to form a smooth and slightly sticky dough.Knead well for 10 to 12 minutes until the dough turns soft.

Add oil and continue to knead for about 5 minutes until the dough turns soft and elastic.(when it is done you will be able to stretch the dough into translucent film without breaking easily.)Transfer into a greased bowl .Cover and leave to rise in a warm place until doubled in volume for about 1 to 1 and 1/2 hours.

To see if the dough has proofed enough,gently poke your finger into it.If the dough quickly bounces back ,it isn't ready,if it comes back slowly,the dough is ready.Punch down the dough.

Transfer the dough onto a lightly floured surface.Roll the dough out to 1/2" thickness.Cut the doughnuts using a doughnut cutter (or use a 3" round cookie cutter to cut the outer round and a small cookie cutter or a bottle cap to make the center holes.)

Place the doughnuts atleast 1" apart on a parchment paper or a lightly floured tray.Cover loosely with a clean kitchen towel and allow to rise for about 15 to 20 minutes or until doubled in size.

To prepare the glaze add all the ingredients listed under'for chocolate glaze' in a bowl/double boiler.Place over a saucepan of simmering,but not boiling water.Stir until the chips are melted and the mixture is smooth.Set aside.

Heat oil in heavy bottomed pan.Carefully place a couple of doughnuts in the oil.The doughnuts should immediately float to the top and puff up.Carefully flip them over to the other side.Fry for 1 or 2 minutes on each side until golden brown.Transfer onto a clean kitchen towel.Allow it to cool slightly before glazing.

Repeat with the remaining doughnuts and holes.

Dip one side of each doughnut into the chocolate glaze.

Let any excess glaze drip off.Transfer them onto a parchment paper.Garnish with grated chocolate ,if desired.Allow the glaze to set before serving.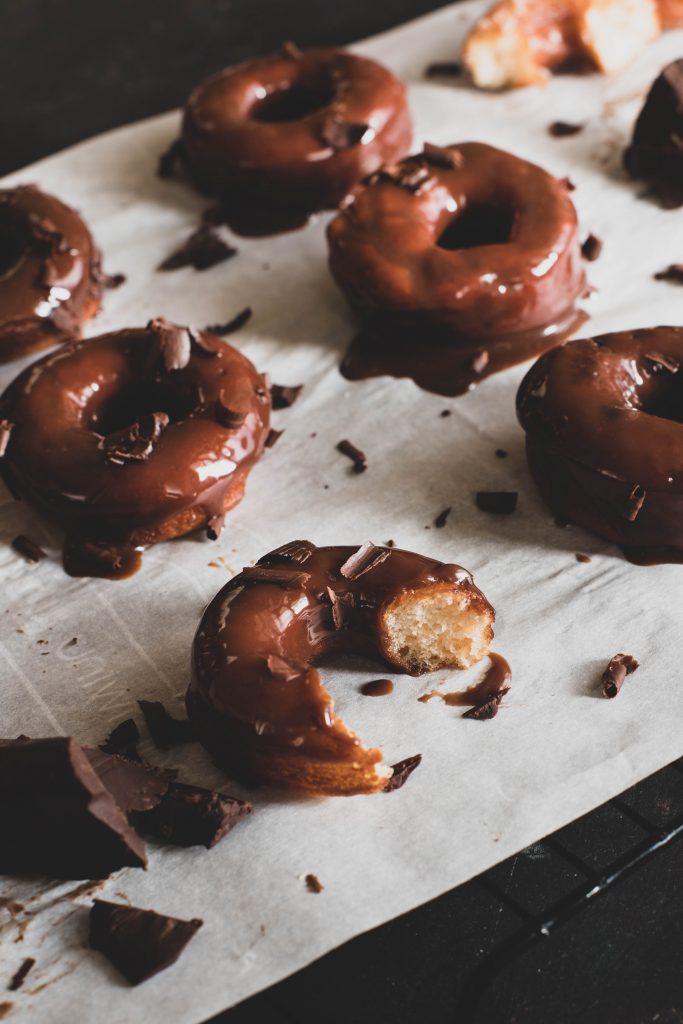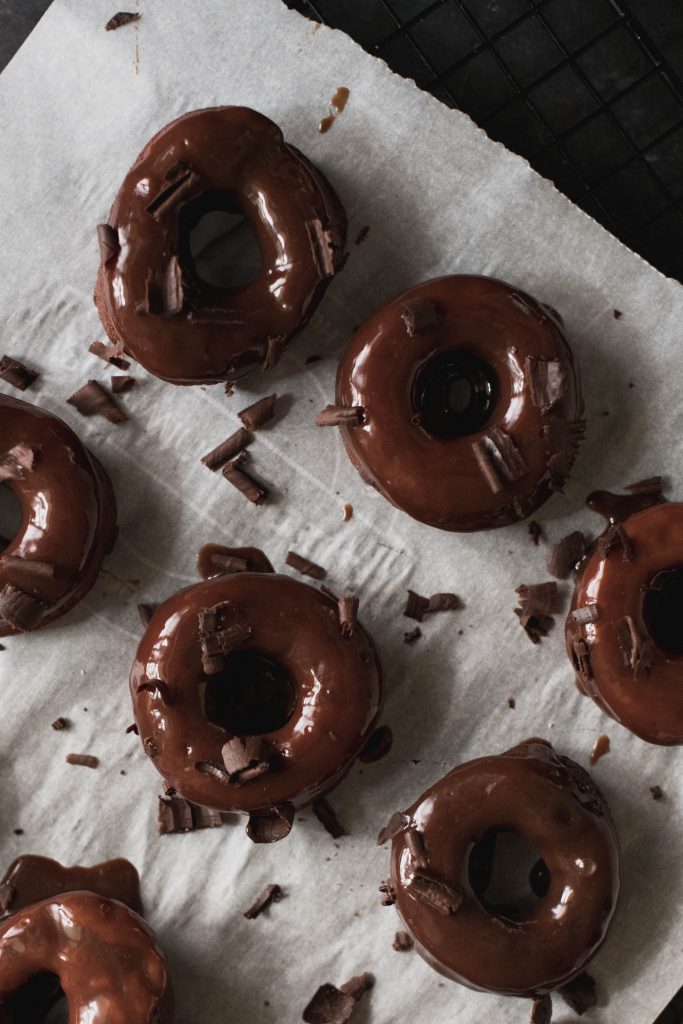 NOTES
1 cup=250 ml
Click here for glazed doughnuts recipe (with eggs)