Chakka Puttu | Steamed rice cake with jackfruit-Learn how to prepare this healthy and delicious Kerala breakfast dish.
Chakka Puttu
Ingredients  
1

cup

Puttu podi / roasted rice powder

10 to 12

Ripe jackfruit,finely chopped

1/2

cup

Grated coconut

Salt

to taste

Water

as required
Instructions 
To prepare puttu mixture
In a bowl,combine together rice flour and salt to taste.Sprinkle water 1 tbsp at a time and mix well with your finger tips.It should look like bread crumbs and should not form a dough.(To check if it is done,take a handful of wet puttu mixture and press it.If it holds its shape and crumbles easlily when pressed again,then the consistency is right.)Cover and keep aside for 10 to 15 minutes.
To prepare chakka puttu
Finely chop the jackfruit and set aside.Place 1 to 1.5 tbsp of grated coconut as first layer in the puttu mould.

Next add 2 to 3 tbsp of the chopped jackfruit.Loosely fill the remaining portion with the prepared puttu mixture.

Top with grated coconut ,if desired.Cover the puttu mould with the lid.

Fill the pressure cooker (or the bottom vessel of the puttu maker)with water equal to half its volume.bring it to a boil.Steam cook the puttu for about 5 to 8 minutes or until you see steam escaping from the tiny holes in the lid.Take out the mould and invert it onto a serving plate.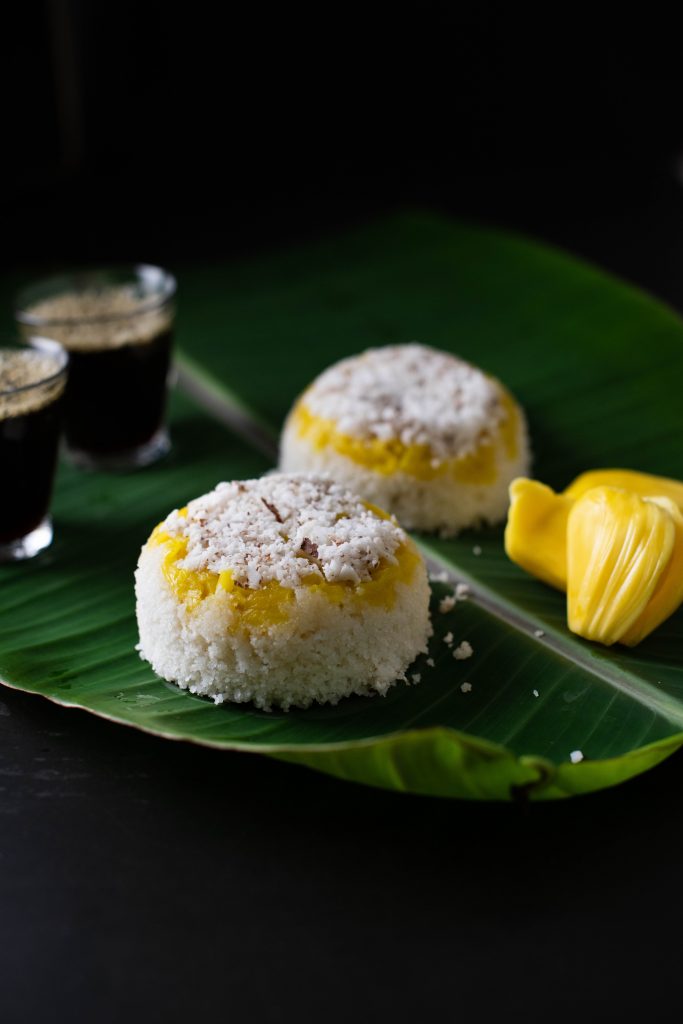 NOTES